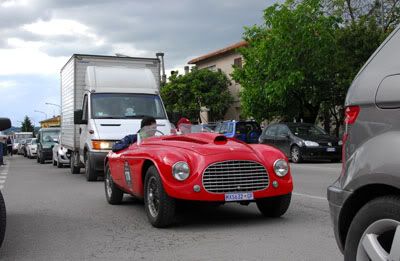 I'm sitting in my room in the Inalbi agritourismo (near Firenze), it's cloudy and drizzly... and I'm recuperating. The past weekend is almost a blur. There was lots of good racing, great food, more drink than I've consumed in a long time and camaraderie par excellance. The best part was meeting some of the Slot Forum community in person for the first time. I keep saying this but it's so true, you don't know what close friends you have until your virtual conversations become face-to-face conversations.
Friday's events revolved around getting things organized at the venue and then traveling to Spoleto to see the Mille Miglia drive through. Our plans originally were to be in Assisi to see the cars in a more historic setting but a local festival there forced the change of route.
A Drive-by Shooting in Spoleto
By the time we drove over to Spoleto and lined up in front of what's called a "strip mall" in the states, the modern Ferraris (Ferrari was the feature this year) that preceded the old cars were already passing through. When the old cars started to arrive the pilotti had to contend with normal city traffic, staying on course, as well as everything else that it takes to drive old machinery… oh yes and the dodgy weather. I managed to say "Hello" and shake hands with Doug Nye, who was passing by in a Mercedes SSK. Nye is a motorsports journalist and book writer… a very familiar person in the vintage race community. Our Mini Mille Miglia regalia got noticed by at least one driver in the lot. When he was told about our race for charity his response was "Very good" and "Good luck"!
Dinner for the group was at a local restaurant back in Castello Delle Forme. I suppose the drinking that followed has addled my brain… for the life of me I can't remember what I ate. The carousing lasted until 3AM… at least that was what my watch said when just before my head hit the pillow.
I'm not sure how I was able to be functional the next day, but somehow I was… The day's event included the non period Ferrari break-out session. Cars were timed through Graham's Mille Miglia course with penalties for going under or over the proscribed time of 40 seconds for one lap. Drivers for the various cars were determined by drawn lots, so I wasn't able to drive my 250 SWB… again retaining my title of "he sucks overseas", I came in dead last… It was the car I tell ya… it was!

The festivities continued with a barbecue at Graham and Linda's beautiful home on a terrace overlooking the farmlands around Castello Delle Forme. Barbecuing was done by neighbor Marty Lang (from Wisconsin!) with locally produced meats and a really remarkable sausage. Other dishes were too numerous to remember, but the cous cous and home made tiramisu do stand out in my mind. The conversation was lively and the wine flowed freely. Later more yacking was done at the local bar until, once again we closed the joint... sensibly around 2 AM.
Sunday's schedule was pretty busy. There was the pursuit elimination race where 2 digital race cars were placed at the opposite points on the track for the start. The run would continue until one car "overtook" the other (which usually meant knocking it off the track). I managed a 20 minute run (not bad) but didn't survive the first elimination. Better, but no cigar. Following the pursuit, came the Mini Mille Miglia. As with the Ferrari Challenge, it was a break out race with 45 seconds being the optimum time. Somehow I managed to turn in the 2nd closest time, however, because all the times were averaged (we ran multiple cars) for the final result I was low man once again. The final event was the concours d'elegance... the beauty contest. People voted for their faves. I had prepped 4 cars for the event. The Ferrari 166 Touring Coupe (returning from last year), a 125 Ferrari Barchetta (with a modded Ninco body on scratch built brass chassis), a Ferrari 375MM (Proto body on scratch built brass chassis) and a completely scratch built `32 Alfa Romeo 8C Corto MM car made specially for the event. The Alfa was 2nd (if I remember correctly) but there were 3 Petrolati car in the top 5... my memory is a bit hazy at this point. The last event for the Mini Mille Miglia was the awards dinner, held at the venue. I sat next to Marcia, an American from Portland Oregon, living in Umbria... we had a great conversation about most everything from families to shared backgrounds. aparently her father worked in Conshohoken, PA where my dad grew up... amazing! Once again we were served an excellent dinner of Antipasto misto and bruchetta with various sauces. Primi was Umbricelli al Ragù, a local pasta, rather like thick spaghetti in tomato sauce. Secondi was Tagliata e rucola, thin strips of beef with rocket. Dolce was a wondeful cake all prepared by 4 remarkable local ladies.Afterwards we didn't quite close the bar but it was a close run thing.