The view from Agritoursmo Inalbi
It's raining again today. Not the showery sort but the steady stuff that will last all day. I had planned to head out and see where the road would take me but with the cold I don't want to chance making things worse. Tomorrow should be better… I'll head out to see what I can see then. There's supposed to be a festival, a palio, not too far away. I spotted it while internet surfing before I left. Perhaps I can find it again and get over there. If it's still nasty tomorrow there's always the Formula 1 race from Monaco. Besides, I need a little down time before next week, which will be busy. I'll be returning the car in Siena on Monday then, traveling by train from that point on. Alan gave me an over the shoulder bag while I was in Switzerland. I'll move some of my clothes into it to make room for the stuff I'll be schlepping back… I can't believe there's 2 bottles of grappa in there! Gods help me, but the stuff is beginning to grow on me.
As I mentioned, I'm staying at the agrtourismo Vecchio Borgo di Inalbi, just outside of Impruneta which isn't too far from Firenze. Inalbi is a working farm with olive orchard (olives come in orchards… right?) and vinyards. It's a gorgeous setting on the side of a hill with great views. It's not a just single building like where I stayed in Umbria but a rambling affair with rooms, separate apartments, swimming pools, and open terraces where you can sit and soak up the sun (if there were some).Set beside the walkways are small lemon trees in pots. The trees have fully grown fruit as well as lemon blossoms on the same tree. I assume (I'm agriculturally challenged… black thumb, don'tchaknow) cranking out lemons all the time is what a lemon tree is all about. The Trattoria here has served some of the best food I've had on the trip.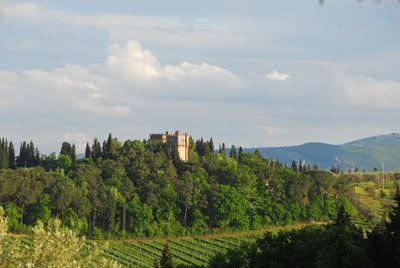 Another direction another breathtaking view

Unfortunately, because I'm here by myself (very few folks until this weekend… and they were passing through) I wasn't able to take the cooking class that was mentioned on their website (they need more than 2 people to do the class).

For dinner tonight I went to out to our next door neighbor (so to speak). I believe the place is a resort. Its ristorante is called "Sessi Neri". It's about half a K down the road from Inalbi and is the place they recommend when the Trattoria here isn't open. I flew in the face of tradition by leaving out the "Primi" course. I went straight from "antipasti", scamorza salami, thin sliced around a bed of endive and walnuts with honey (If you like proscuitto with melon… this is better), to the secondi course of thin sliced smoked swordfish with pine nuts olive oil and rocket. Along with the sword fish they brought more olive oil and balsamic vinegar to add to the mix. The olive oil is locally produced and is wonderful. The balsamic vinegar… holy cow! It's the consistency of light syrup and defies description… it's THAT good. With dinner I had a Sangiovese wine, a 2007 "Tenuta Sassoregale Maremma Toscana Sangiovese" … wow! I'm a huge fan of this particular grape. It's the primary grape in Chianti Classico. For me it's like drinking history. Sangiovese grapes were found in the Balkans a seriously long time ago. The Romans drank its wine. It's possibly one of the oldest grapes known to man. This Sassoregale is exceptional.
Since I had been such a good boy all day I had desert. You desert makers from Vienna… go home. You Parisians, get back on the freaking bus. I had a chocolate cake (essentially a wafer) with kind of a gelato wedge laced with Strega. The chocolate wafer was flavored with nutmeg (a natural) and sat in a small puddle of chocolate syrup. Perhaps there's a bit of the "ball park hotdog" thing going on here… to be honest, I haven't had a bad meal while I've been in Italy. Here food is not just sustenance… it's art.