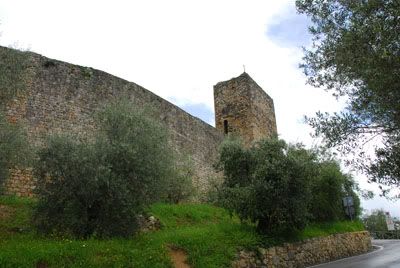 It wasn't actively raining this morning when I set out for Siena to "see what I could see". The trip over was uneventful but by the time I got there it seemed all of Italy had turned out with about half a bazillion Carabinieri there too. As I sat in traffic to get to where I could find a parking place near center city I started seeing folks in black and blue regalia… a football crowd. There must be a match in Siena. Just as I was directed to turn around to where parking could be found (probably several kilometers away) the sky opened up and it began to pour. Ah well… Siena will have to wait for another time.
On the way down I noticed a castle brooding fairly close to the highway… plan 2. Go to the castle, mosey around. The castle was Monteriggioni, one of the major fortifications that protected Siena from Firenze. The fortification stood from the 13th century undefeated until it fell finally by treachery (as these things do) in the 1500's. The site is much older. It's been a fort since Roman times. It commands a chunk of important highway from Rome to the north and is mentioned in "The Inferno" by Dante who visited the place before it fell. The site is fairly well preserved with restaurants and shops dotting the small square. There are also several small hotels or B&Bs within the walls. If you wanted a sense of a medieval fortress here is your place. I found a small museum of arms and armor (most were reproductions, but beautifully done by a master of the craft). Unlike at the Stibbert Museum in Firenze, where the suits are standing row upon row, these were dressing really nicely done manikins in little dioramas. The chainmail for the most part was riveted and very impressive. The plate was very nicely done. The men at arms wore cruder gear than their officers. There were several opportunities to actually handle the exhibits, Trying on the fully articulated gauntlet, handling the crossbow and hand cannon was worth the price of admission! The museum fee got you admission to climb up on the battlements and look at the surrounding countryside… very cool. Monteriggioni is quite small compared to Cortona, or Volterra. If someone was really ambitious enough this would be a wonderful place for a living history museum…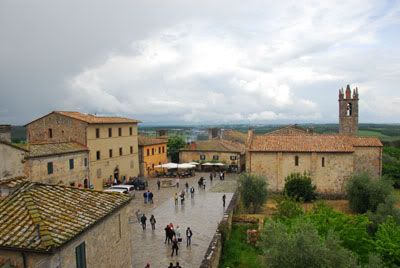 A neat thing happened while I was there. I was walking down an alleyway (there only a couple of streets here) when I heard Jazz coming from one of the shops. It was one of those moments where the input of what you are seeing and what you are hearing collide. Whoever was playing piano was a good as you'd hear in any Jazz club in New York, Chicago or New Orleans. There was a great combo backing him/her up. I poked my head into what was a lavender and herb shop, the size of a small walk-in closet. "Jazz," I said, molto bene!" I gave the shopkeeper a big thumbs-up. She grinned back and said in English "One of my favorites… they're Italian!" We talked about our favorite musicians briefly then, I continued down the alley which bent sharply I soon heard Edith Piaf crooning in her bedroom voice coming from another shop…
I didn't linger too long in Monteriggioni. It was around noon and I wasn't particularly hungry so I headed back to Impruneta and was there in time for the Formula 1 race in Monaco (Mark Webber won it for the Red Bull team). Watching the race broadcast in Italian was fun. You didn't really need to know what the announcers were saying. I spent the rest of PM kicking back and drinking the leftover Sangiovese from last night... heaven!
For my last night in Tuscany, I had dinner here at Inalbi's trattoria. Primi was ravioli fresci stuffed with ricotta and spinach in tomato ragu, Secondi was an excellent grilled steak, served rare, from the farm's livestock which I had first heard when I arrived. Of course there was plenty of the house Chianti and I finished the meal off with a glass of grappa. I think the stuff's growing on me. Tomorrow it's back to Siena where I turn in the rental and take the train to Levanto and Cinque Terra.