I couldn't post in Levanto because of a computer mis-communication (probably my machine) this post is a couple days old... `sorry for the delay.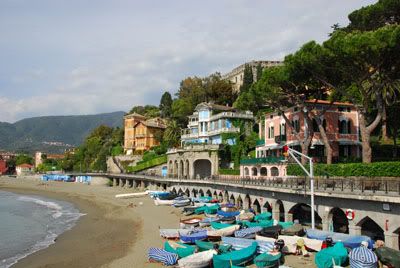 Levanto and fer-heavens-sake what's that big yellow thing in the sky?

I turned the car in Siena this morning and after a brief taxi ride I had ticket in hand for Levanto. 2 train changes and about 3 hours later there's all this sun Sunlight unencumbered by even the hint of a rain cloud all over the place (I begin to do a happy Snoopy dance in my head). The trip was made quicker with conversation with the Morgensterns, from Northeast Portland Oregon. They were on their first trip abroad and doing a "recce vacation" for future trips. We compared notes as to where we had been and what we'd been doing. They were in Siena while the football craziness was going on. OBTW, there was no joy in Sienaville last night. The local football team got blanked (I think by Milan).
The trip from Spezia Central station onward was spectacular, very high mountains, with quarries way up the sides of those mountains (Carrara marble comes from there) and beautiful hill towns too. I would love to have taken tons of pix but the windows on the train were so grubby you would only see dirt. The Morgensterns got off at Manarola in the Cinque Terra. About an hour and a half later later I was drawing a bead on the beach in Levanto. The word from my concierge, Elisa, here, at A Durmi', a beautiful B&B just down the hill from the train station, is that many of lower trails in the Cinque Terra have been washed away by the almost constant rain, leaving most of the higher trails and the serious work of climbing them intact (I don't know if my knees are up to the trails). The Elisa was a great help suggesting places to go to for good shots of the environs as well as some less touristy places for even better shots.
I just heard what sounds like an ocean liner! Is THAT a change from rural Tuscany or what!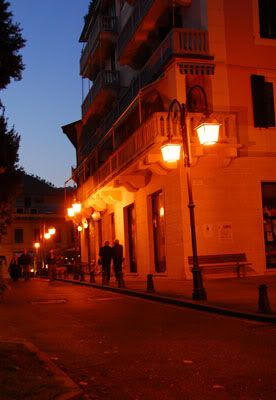 After dark (had to use the monopod at least once on this trip)

Tonight dinner was at "Ristorante da Rino" a place specializing in Ligurian specialties and one of the restaurants listed in Rick Steve's book. I chose the marinated fresh anchovies for starters. If all you have for anchovy reference is the salty wizened up things that most folks pick off their pizza, you are in for one serious treat. The little fish came with olives tomato and a bit of rocket. For secondi I had the grilled swordfish… excellent. Trust a sea front town to get fish right. The swordfish was a fall back choice because all the seafood dishes I really wanted were for 2 or more. Which brings me to a subject I tried to breech a couple of days ago when it was raining gatti e cani, but it sounded too maudlin so I deleted it. It's traveling alone…
I love the act of exploring. To me there's nothing better than getting in a car and taking off for god knows where. But now 2 weeks in on my "Big Road Trip' I'm beginning to miss having someone to share it with… Italy is just too cool for one person alone. The worst times are at dinner. Here dinner is an event. It can last all evening. Sitting at a table for one is starting to get a little depressing… at home at least I have the cats........................... man… that's REALLY depressing. Maybe I'm hitting sensory overload or just getting tired of living out of a suitcase, but that's what I'm feeling at the moment. Tomorrow could be entirely different.