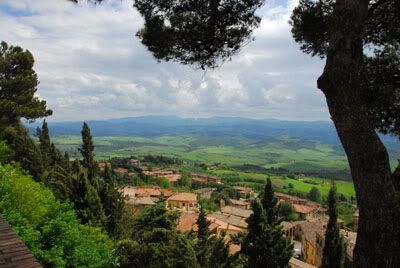 From Volterra's battlements
Yesterday was fantastic. Finally the weather cooperated and I had a sunny day for my trip to Volterra. 1.5 hours away a brief run on the Firenze-Sienna highway then it's about 30K across country 2 lane past San Gimingnano to Volterra. It'll take you longer… I assure you. The views are stunning and for the car nut the road is great… I mean really great! Volterra is about my favorite place so far in Italy. It's another Tuscan fortified hill town where almost the entirety of history is on display. Volterra has been around at least since the Etruscans. There's a gate there that has stood for over 2500 years. It has narrow twisty streets neat little alleyways and a collection of museums (the torture would be an S&M devotee's Mecca) and shops. Since the weather was good, I went a little nuts, photographically. Later, Lunch was a paninni of fennel salami with fresh pecorino cheese and a glass of the local rosso. Not worried about driving (I would be there for a few more hours I felt it was safe to indulge. I also sampled some of the "Super Tuscan" wine and picked out some to send home. As I was meandering about I ran across a craftsman working, making reproductions of Roman and Etruscan bronze pieces. He was okay with me taking a couple photos of him working. I

bought a 2 tailed bronze lizard (supposed to be good luck) from him to take home. Volterra is a great place to find alabaster sculpture and there was a perfusion of shops selling stuff of various qualities. Some of the pieces were reproductions of ancient artifacts, other of more classical and modern design (I even saw a small bust of Albert Einstein sitting on the shelf between Gallileo and Pucini (`wouldn't have known it was Pucini if it hadn't been labeled). The trip back from Volterra was uneventful with only a brief detour around some road work. I guess there are only 2 seasons in Italy too… winter and construction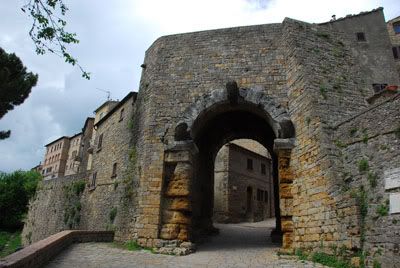 The Etruscan Gate at Volterra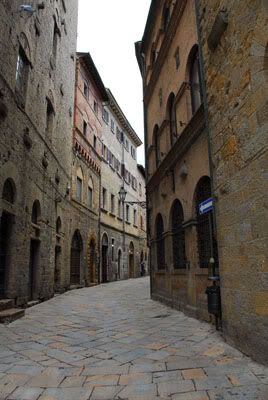 This is seriously cool...


Well I knew I couldn't be so lucky. All the late hours, lack of sleep and bizarre weather… you guessed it. I've got a cold. It doesn't appear to be serious. I've been taking OTC meds an aspirin substitute called Saridon and a cold med called Antigrip for the scratchy throat. I'm determined not to let it take over so I went into Firenze this AM. I visited the Frederick Stibbert Museum (it's an arms and armor nut's wet dream) and had planned to go to the Palazzo Pitti, but it's just plain nuts there. I got scared away by the crowds and traffic so I opted to come back to Imprunetana to chill out. I had lunch on the square and am back in my room for a quick nap and to write this. This evening I met Peter and Amelia Schilp for dinner. They're vacationing from Holland spending a few day here before heading down to Urbino.

I'm hoping this cold thing will pass and I'll be feeling better by tomorrow.