I got a little behind what with all the excitement of the Mini Mille Miglia. Now that things are a bit quieter, I'll try to catch you up over the course of the next couple of days...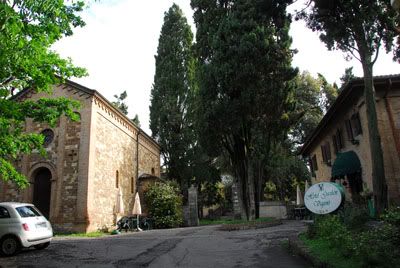 The Hotel Garden Vigano... here we stayed in Reggio-Emilia
We put the top down on the MG on Thursday morning (finally) for our trip to Modena and the Ferrari Gallery. The Gallery is situated near the factory (where mere mortals are forbidden). The gallery is sort of a theme park for Ferrari… without the rides… `though I have a number of ideas about that… Alan and I were given discounts for our entry fee because the museum was in the middle of a display change (with so many visiting for the MM `Storica, and a high school class it possibly wasn't the best moment in timing). Despite the fellows in Ferrari red schlepping new display boards in and old display boards out there was quite a bit to see. Race cars occupied space on the first floor, Occupying "pride of place" at the front of the collection was a 1947 Ferrari 125 MM. A number of other GP cars progressing forward in time were scattered about. In another room was a 512 coupe in red Sandemann livery and a 312 CAN AM sports racer. The "Boss's" office was on display at the back of the first floor. It's a small office tastefully finished in a blond colored wood. It's really ironic Enzo Ferrari wielded so much power over so many lives from such a modest office. You'd almost expect something like a grand court from the Renaissance for his seat of power.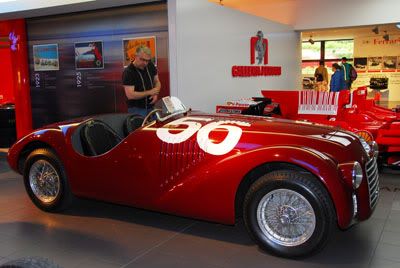 Alan tries not to drool
The latest toys from the Ferrari Candy Kitchen were on the second floor. The hardware was accompanied by color samples (including a duplicate of a specially designed container with a bit of Ferrari Red which went into space and is currently on the moon somewhere), videos (in Italian), old photos and Ferrari inspired art work (when your name becomes an adjective art naturally seems to follow).
Of course
there was a museum shop…
of course
they gleefully separated me from some of my loot… after all this is
Ferrari
.
Alan and I met Maurizio Ferrari again for lunch nearby the Slotit office before heading south for Perugia. The conversation ranged from Italian politics, volcanoes and the slot racing business to American politics and health care and family.
The sky looked like it would rain so it was top up again for the trip south. Running late (anyone who's been to Italy knows horking down lunch an running, just isn't done) we went for expedient, taking the A1 to the cutoff for Perugia. Arriving at rush hour we fought our way through traffic arriving at the Girasole, our B&B, a beautifully restored home in Papiano. Avra, Roberto and their seriously cute children welcomed us and got us settled. Once the dust was washed of we drove over to a local restaurant for dinner. Alan had a braised beef dish I had pizza, with Proscuitto, mushrooms, rocket, and parmesan. While we were enjoying dinner, Paul his wife Jen, and their son Harry arrived. They're from Liverpool, here for the MMM. After dinner we drove to Graham Lane's beautiful house in Castello Delle Forme where we met even more of the slot community and joining them for some local alcohol... an indication of things to come...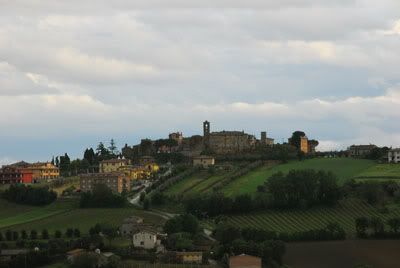 Castello Delle Forme