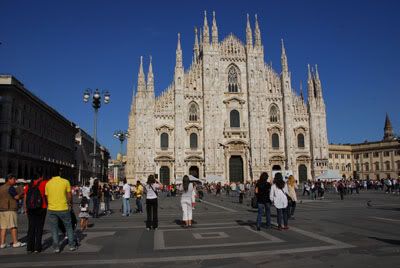 Obligitory Duomo shot to comply with Photo Cliche Regulations

I'm sitting in the Hotel Galles (Best Western) in Milano. In a little while I'll be boarding the train for Venezia. Yesterday I had hoped to get to the Alfa Romeo Museum just outside of town. I had an address and rough directions. With the help of the front desk staff (who were surprised I didn't want directions to the Duomo) and the Italian railway system (Chiara, you were so right, they're idiots) I wound up in Varese an hour out of Milano in sight of the snowy Italian Alps. When I finally got back to Milan (delays in both directions) I grabbed a taxi back to my hotel to sulk. I whined about my situation to the cabby. His response was "I know where the museum is…" His advice however was to not go at this late an hour. The cab fare would have been 30 euroes out (which at that point I would have been willing to pay), as traffic would be relatively light. Coming back would have been during rush hour when the fare could easily have been double, if not more… even if I could have gotten a taxi at the museum at that hour.
Once back in my room I checked my emails then decided Milan was NOT gonna get the better of me. It shames me to say I took the Metro to the Duomo, where there was some sort of youth rally going on… They had a Jumbotron and some guy shouting into the mike. I never saw him. The crowds were astounding. I wandered around for a bit then headed for the Galleria Vittorio Emanuele. Remember in the film Crocodile Dundee where a tough sticks a switchblade in Dundee's face?

Now that's a mall...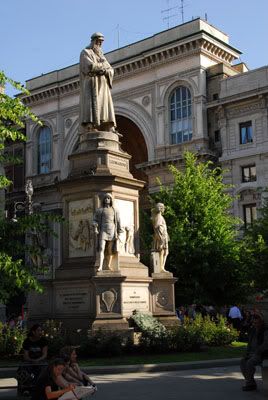 Leonardo DaVinci... `did some work for the Sforzas, That's the Galleria behind him

Dundee, hauling out a hyperthyroid Bowie, responds, "Call that a knife? …this is a knife…" When I first went in the Galleria I thought about the cheesy shopping malls in the states… "Ya call that a mall? …THIS is a mall…" The Galleria soars over 100 feet over your head. Over there was Prada… over here… Gucci… Mercedes Benz? Right here madam! The interior is stunning (I've said that word so many times it seems to lose its impact… but it is). High up near the glassed ceiling are beautiful mosaics of legendary characters like Cleopatra. I was to starting to feel a bit hungry (of late and whenever I could get away with it, I've been skipping lunch, to have a really great dinner).
Inside the courtyard at Castle Sforza

To work up more appetite I walked the few blocks to the Sforza castle. It's a great bastion, but to my mind's eye the guy didn't have much worry about being attacked. It looked strong, but not a place that was really meant to defend against a really well equipped determined foe…. impressive none the less. It was pretty late in the day so the museum was getting ready to close. I wandered out with the carabinieri and the rest of the crowd. I used Rick Steve's book to find the Trattoria Milanese, a neat little restaurant not too far from the Duomo. I only needed to ask one local and found it right where they left it. Dinner was an antipasti of steamed asparagus in butter and parmesan… a revelation! I like asparagus but never thought to use parmesan with it! Dinner was Osso Buco on a bed of saffron risotto… wonderful accompanying the foods was the house red a Montepulciano, which complemented the veal perfectly. For desert the house specialty was zabaglione… another breathtaking end to the meal. Stuffed to the gills I staggered back to the Metro and managed to find my room before the lights went out.