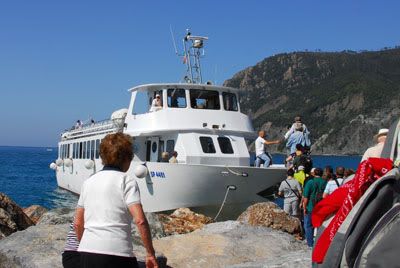 Boarding the ferry at Monterosso... who are all those old people... eep!


Elisa's sister, Chiara, shares duties with her at the front desk. At breakfast she helped me plan my day, giving me great advice as how to get the most out of my time in the 5 Terra. I did the lazy man's tour of the Cinque Terra. I took the train to Monterossa al Mare. There I boarded the ferry and cruised on down stopping at most of the other towns of the Cinque Terra (the seas were up a bit for stopping at Vernazza and Corniglia).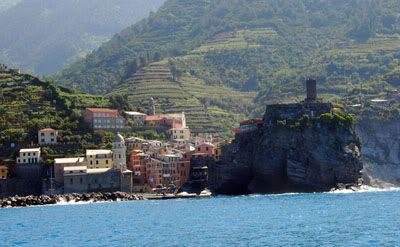 I think this is Corniglia... or possibly Manarola
to Porto Venere… where Lord Byron hung out and liked to swim from the fort there to a nearby island… at least, he did until that last unfortunate evening. I also took the 3 island cruise (no, it wasn't on the S.S. Minnow). There may be more photogenic places on the Ligurian coast… but I haven't found them.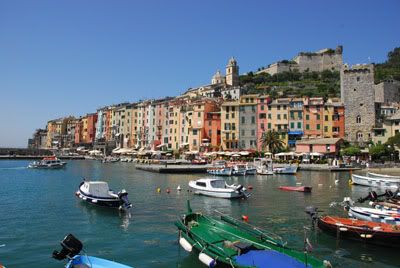 Porto Venere



It wouldn't surprise me to find that it's probably been in a few films. The tourist trade was brisk (mostly folks from Germany) but you could always get away from the crowds. I found a secluded little piazza and enjoyed a piece of tuna pizza I bought from a little pizzeria in an alleyway (fresh tuna folks… it's a whole `nother animal). After wandering around for at least another hour, I felt the need for more sustenance and had some fresh mozzarella and prosciutto with balsamic vinegar and olive oil. I took the ferry back as far as Riomaggiore (Big River). On the way I was told if you bought your tickets at the trailhead for the Via D'Amore it would be pricier than if you hiked up the hill to buy at the tourist office. So-o-o, I hiked up the hill (working off some of the second lunch I had) …did I tell you the hill goes straight up? When I got up to the top of the hill I was asked "why did you come up here for your ticket?" When I told them what I was told, the young man there said, "No… it's the same price."After a snide comment about the church situated halfway up the hill needing to be where it was so they could perform last rights on climbers… I bought my ticket (didn't want to have made the trip for nothing). And I schlepped back down the hill… it goes straight down too! The Via D'Amore is possibly one of the easiest trails in the Cinque Terra and after the hike up the hill it was JUST FINE WITH ME! I opted to take the train back Levanto from Manarola. Still full from lunch I opted to pass for dinner. 10PM I felt rather peckish so I went down to the Casino Piazza for a Goodnight Gelato…